HESSE LIGNAL
Hesse Lignal is a traditional German family business with a history dating back to 1910. It focuses on production of premium varnishes, stains and oils for wood finishing.
The state-of-the-art technologies are used for the production. The use of technology is based on many years of experience, and thanks to its own development centre, Hesse is able to develop products according to customer requirements. Currently, the company offers a wide range of products for the finishing of interior furniture, doors, parquet floors, stairs etc. In addition, it also focuses on paints for interior glass and decorative metals.
The technology and technical facilities and capabilities of SERVIND combined with the technical and technological support of Hesse Lignal, help us actively assist our customers with technology changes and together we design effective coating solutions.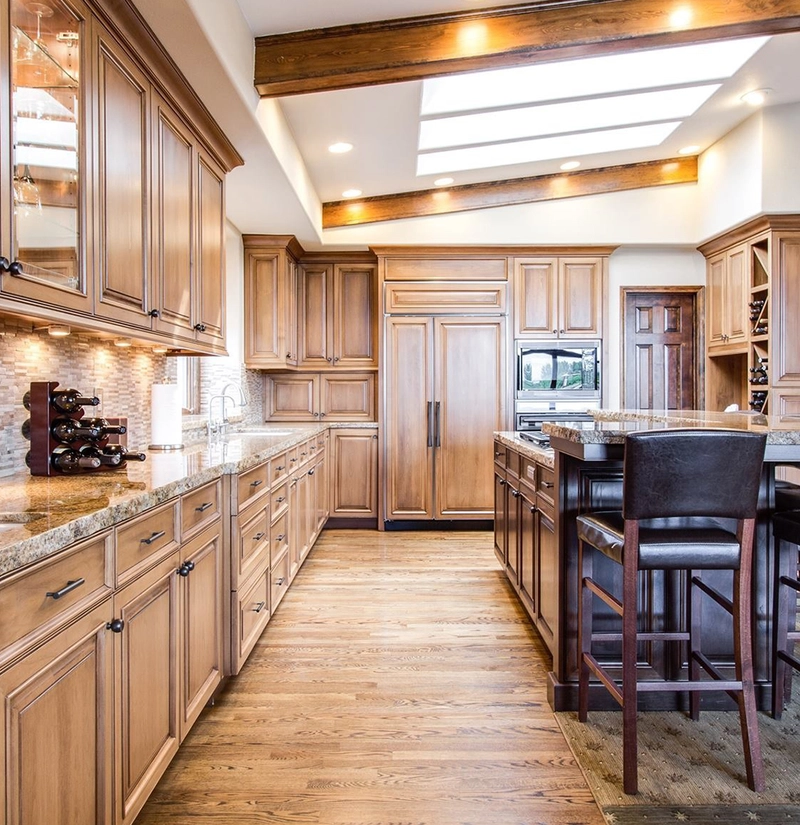 Solvent PUR coatings
Polyurethane coatings are two-component systems, consisting of a varnish component and a hardener component. The dry and cured painted surface is resistant to solvents and many chemical and mechanical influences. This is the reason why, polyurethane varnishes are used for painting more stressed parts for kitchen and bathroom furniture as well as tables and chairs.
Of course, we provide our customers with individual attention, advising, shade determination and their adjustment. Mixing machines can then be used to prepare 20,000 shades according to colour cards.
Water stains
They are characterised by their environmental friendliness. Various stain systems can enhance or change the natural appearance of the wood depending on their settings. We can prepare your desired shade by appointment and you can use the CLASSIC and STYLE colour cards to get an inspiration.
Solvent stains
They consist of lightfast dyes and pigments. They dry quickly and have good compatibility with conventional varnishes with the possibility of being repainted within a short time. Excellent wetting and pore highlighting properties. Therefore, they are preferably used for rustic staining of oak or ash. See technical data sheets for details.
Water-based varnishes
These are environmentally friendly products. Basic materials include acrylics and polyurethane acrylics dissolved in water. Suitable for children's furniture. For use on stairs, these varnishes comply with the German Decopaint regulation. These varnishes offer less odour, good lightfastness and non-flammability in liquid state. They also contain very low or no organic solvents.
Taking specific properties into account, water-based varnishes can be used for the same applications as polyurethane varnishes. The two-component systems have similar properties to conventional solvent systems.
UV varnishes
These varnishes are composed of special unsaturated acrylic resins. Varnishes are cured by the action of UV light to produce a varnish surface layer with excellent durability. The advantage is low material consumption and very low if any material loss. Curing takes place within a fraction of a second and thus the product can be processed immediately. See technical data sheets for details.
Oils and waxes
The basis for wax and oil blends consists of renewable raw materials such as linseed oil, wood oil, beeswax or carnauba wax. They are cured using an alkyd resin modified with natural oil. Final oils and waxes are very durable and can accentuate the texture of the wood with the possibility of pigmentation.
Proterra
All products of this line are manufactured using renewable raw materials taking into account their processing and disposal. These products are environmentally friendly, biodegradable and come with product safety certificates.
Product safety certificates.
Hesse Lignal products meet the most stringent quality but also safety requirements. These properties are confirmed by certificates from recognised institutions.
Chemical stability according to DIN 68861
Cytotoxicity control according to EN ISO 10993-1:2003
PVC resistance
Toy safety according to DIN EN 71-3
Resistance to saliva/sweat according to DIN V 53160
Provisions for formaldehyde release according to DIN 717-2
IMO Resolutions
Provisions on emission limits (VOC)
Regulation on solvent-based paints and varnishes/Decopaint
Pollutant-free furniture according to RAL-RG 430
Fire performance properties of building materials and components according to DIN 4102
Fire performance properties according to IMO Resolution A.653 (16)
Fire protection properties for railcars according to E DIN 5510-2
CROMATEC WOODLINE
Under this brand we offer Italian polyurethane and polyester coating materials with high quality standards confirmed by ISO 9001 and IATF 16949 certificates. They are also environmentally friendly and meet requirements of ISO 14001. 
Find out more!